Canal Boat Hire and Narrowboat Holidays on the waterways of the South of England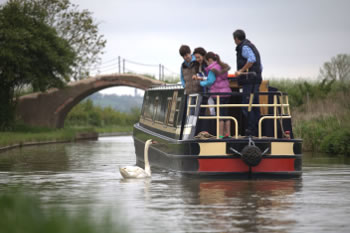 The UK canal system offers us the opportunity for many beautiful and relaxing holidays. There are a huge number of canal boat hire companies with narrowboats of different sizes to suit any group's requirements.
Choosing the right boat for your holiday requires some initial planning, there are a lot of useful hints supplied by the Canals & River Trust and the Inland Waterways Association. We supply you with lists and maps of all of the canal boat hire companies, in the region you wish to visit.
These include companies hiring boats on the popular Llangollen Canal in North Wales, Oxford Canal and Grand Union Canal in the Midlands and the Kennet and Avon Canal in the South.
Narrowboat specifications are changing year on year. Many boats have WiFi, some have bow thrusters which are very useful for manouvering long boats in cross winds. There are even electric narrowboats available from Castle Narrowboats if you are after really quiet cruising.
Canal Holidays by Region
Select a region from the list below or select a specific canal or river from the lists to the left.
Many more options on the Services Page.
Regions
View holiday hire companies by region.
The following is a list of narrowboat hire companies on individual canals in this region.
Hire Boat Companies